Have you ever been in a meeting room and wanted to know if there was another meeting scheduled in the same space? If so, then you can see the benefit of having a display system that shows your schedule on an LCD screen. Meeting room display solutions help keep employees informed and can even help with productivity. Here's how they work:
Use a Software Solution
Using a software solution is the best way to make sure your meeting room display system is integrated with your existing calendar and scheduling tools, so you can easily see what rooms are available for events. This will not only save you time in managing your business, but it will also reduce costs by eliminating the need for manual entry of room availability information.
Display Your Room Status
The best way to impress your clients is by making sure their needs are met, whether that's in the form of complimentary coffee and tea or an extra phone charger.
A meeting room display solution will help you make the most of your available resources by providing information about which rooms are available, which ones have been booked, and so on.
You can even use it as a booking system for ad hoc bookings, as well as a reminder for people who have already reserved a space in one of your meeting rooms.
Display Your Events
Easily display your events on your calendar, schedule, and room display. With a meeting room display solution, you create an event in your calendar book your favorite meeting room, and the display outside the meeting room will automatically be updated, so everyone knows when the room is occupied.
If you're looking for more information on how to effectively manage your meeting facilities, check out our blog post here: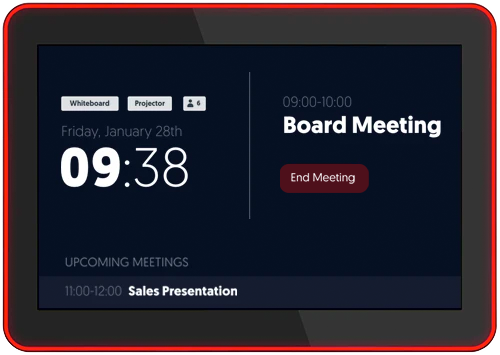 Use The Right Hardware
Using a hardware solution that supports the software you chose for your meeting room display solution is very important. Without the right hardware, you will end up with black screens hanging around your meeting facilities, and you will miss out on all the great features that made you invest in the solution in the first place. A solution is to choose a hardware-software combi built for each other, like Q-Cal Meeting Room Displays and the ProDVX APPC-10SLB Panel PC. With a combination like that you get a solution that is always on.
Increase Productivity and Reduce Costs With a Meeting Room Display Solution
Meeting room display solutions can be integrated with your calendar, which means that you can show the status of rooms and events on your schedule. This way, attendees can see what is going on in the meeting rooms at any given time. Your team members will save money and increase productivity by not having to open up their email or phone messages every time they want to know if a room is available for an upcoming meeting. It also makes it easier for them to identify which rooms will best suit their needs for various events with different sizes and configurations.
The benefits don't stop there! Meeting room displays are an excellent way of displaying company branding materials so that visitors are greeted with a professional image when they enter your office building or facility. By using these displays, you can make sure that no one accidentally walks into the wrong conference room without knowing it first; this could result in embarrassment for both parties involved!
To Sum Up …
We hope that this article has given you some insight into the benefits of using a meeting room display solution. It's an important part of any business and can increase productivity and reduce costs by keeping everyone informed about what's happening in your office space. If you wanna know, why Dansk Industri decided to invest in a meeting room display solution with around 90 screens, then have a look at the case here:
Dansk Industri Makes Employees Happy with Q-Cal Meeting Room Displays