In today's fast pacing world, cutting through the noise and distractions are not easy. Grabbing people's attention and conveying your messages is a real challenge. But … There is a solution, and it is called Digital Signage.
Read our 15 reasons why you should use digital signage in your business and see if you are ready to come and join the digital signage club.
Give Your Bottom Line a Boost
1: How often do you look up information in a book?
Most of the time, we just type our questions into Google and hopefully find a video explaining what we need to know. Receiving information on screens has become a part of everyday life. Making it a part of your business is not that big of a leap.
Digital signage screens are a modern and dynamic way of providing information.
2: Cut down on costs
With a digital and reusable sign like a digital signage screen, you would cut down on the money you spend on paper and ink. Who doesn't like reducing costs? Then there is the environmental debate about reducing paper usage, but that is a talk for another time.
3: Your employees will be more productive
Visual messages are easily consumed and quick to set up, especially when using templates. And, the scheduling tools and automatic takedown of information will make communication less time-consuming. Your employees will save time, making them more productive. Which, in the end, will provide more money for your company.
4: Manage it all from one place
With a digital signage solution, you manage all your signs aka screens from a central content management system on your computer. With this, you can unify your communication across all your screens no matter where in the world they are placed. You decide if you want one person in charge of your signage solution, a team for multiple groups of people creating and managing the content on your screens.
5: Create targeted and timely messages
Yes, you can unify your messages, but you can also differentiate them. You decided what messages are sent were making it possible for your to create targeted and timely messages.
6: Combine your content
Integrating calendars and KPI dashboards and combining that with the latest news, weather reports, birthday updates, and many other types of content, makes you able to create the screen you need. You put together the information you need to keep your employees updated. And, when set up correctly everything updates automatically.
Increase Your Employee Engagement
7: Keep Employees Engaged
Having essential information available and at hand when needed helps motivate employees and increases their engagement. Motivated and engaged employees tend to be more productive and happier, which in the long run is a positive thing for the company.
8: Keep Your Goals in Focus
Integrating your KPIs and dashboards into your digital signage solution means you have your goals right at hand. Along with an always updated status report about how you are doing in regards to reaching your goals. This again affects motivation and performance, making your employees wanna perform better.
9: Remember to celebrate
With easily changeable screens you can easily give recognition to employees performing well or celebrate birthdays and anniversaries. This makes people feel included and show how much the company appreciates them.
10: No More Missing Updates
With a good place screen e.g. in front of the lunch cue in the canteen, makes sure that everyone sees important communication updates.
11: Effective Management of Meeting Facilities
With a meeting room display, you ensure the best use of your meeting facilities. When integrated with your calendar system, you streamline the booking process and make sure you use your facilities most efficiently.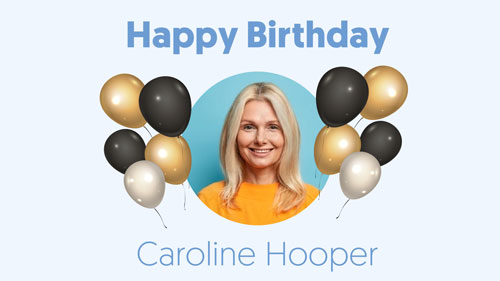 Make Your Customers Happy
12: Advertising made easy
By making screens greet your customers or guests you can easily advertise your products, services, or loyalty programs to all who visit you.
13: Reduce Perceived Wait Time
Did you know, that screens displaying content when people are waiting in line can make the wait time seem shorter? Reducing perceived wait time increases the visitors' or customers' experience, making their interaction with your company more positive.
14: Reduce the Burden on Your Lobby Staff
With an interactive wayfinding tool or a check-in solution guests are able to access information on their own or announce their arrival to the person they are there to see. This frees up time for your lobby staff, who can focus on other tasks.
15: Make Money On Your Signage Solution
Reach out to stores or companies nearby and offer them the opportunity to advertise on your screens. For a price of course. You become more involved in the local community, add extra value to your guests or customers, and turn your signage solution into something you can make money on. Or at least cover its cost.
To Sum Up …
Screens are not the future. They are a fact of today's world, and if you don't start utilizing their potential in your business, you might very well be left behind. So, why not invest in a digital signage solution that can help you save money, improve efficiency, increase engagement, positively impact your bottom line and improve your customer satisfaction?