During the fall of 2019, NordicScreen delivered a digital signage solution to the conference center Konventum.
Konventum is a modern conference and training center, located next to Øresund and only 3 km from Helsingør's charming city center. Since 1969, the site has excited and inspired people who have participated in conferences, courses, companies, golf stays and much more.
Konventum contacted NordicScreen as they needed a meeting display solution that could create a layout of the site's more than 30 meeting rooms.
However, the collaboration was far greater than expected, NordicScreen was able to solve a large number of the Konventum's challenges with the products Q-Cal and Q-Play.
Q-Cal provides the necessary information
NordicScreen's Q-Cal Meeting Room Display solution creates the necessary overview thorughout the entire premises. This is done by placing a ProDVX screen next to all rooms showing the activities of the day.
Konventum was built in 1969 and has since gained international recognition with its unique architecture, so it was also important that the screens were given an appropriate expression. In order to ensure the best accessibility, Konventum chose in collaboration with NordicScreen and prepared a design that shows the necessary informations in a beautiful and easy-to-read way. The screens are always online and will be updated in real time should any changes occur.
"For some time, we at Konventum A/S wanted to digitize our information signs as well as paper signs at our 57 meeting rooms. However, we have had a number of requirements for the solution that we wanted to implement and therefore we have also been looking for the right partner."
Automation creates new opportunities
Among our many integrations such as Exchange and Google G-Suite, Konventum chose an integration with Picasso Tech hotel which is used daily as a booking system.
With an integration from NordicScreen, all data exchange is done automatically. Data on the screen and in the Picasso Tech hotel is always updated and in sync. The reception staff can now have 100% focus on providing the best possible experience for the many guests.
Video wall with art
In addition to meeting room displays, Konventum has chosen a Q-Play Digital Signage solution, that ensures precise handling of the desired material.
Activities and art are displayed on the many digital signage screens all over the establishment. Konventum also uses Q-Play to control a large video wall.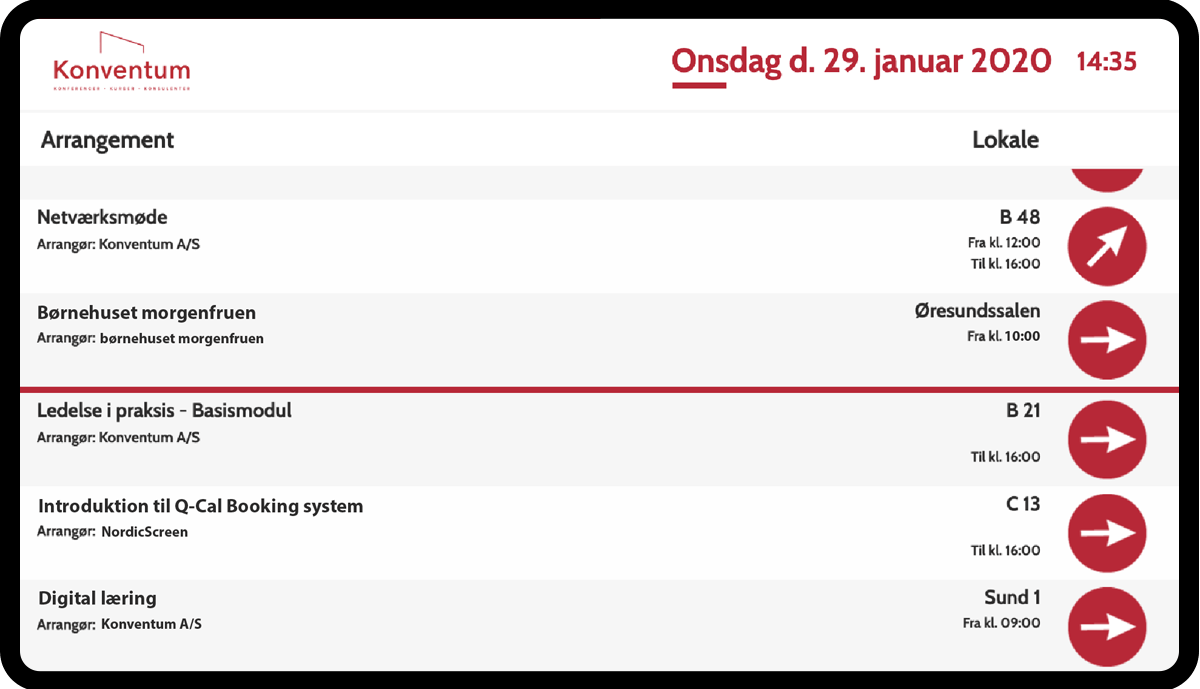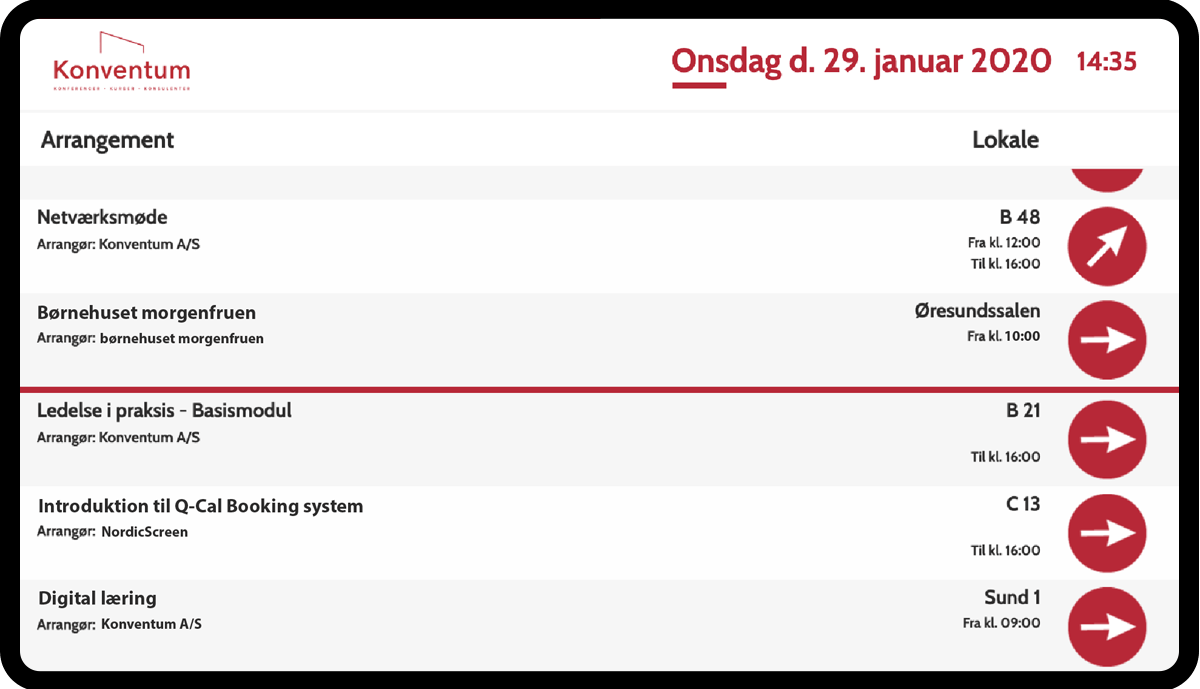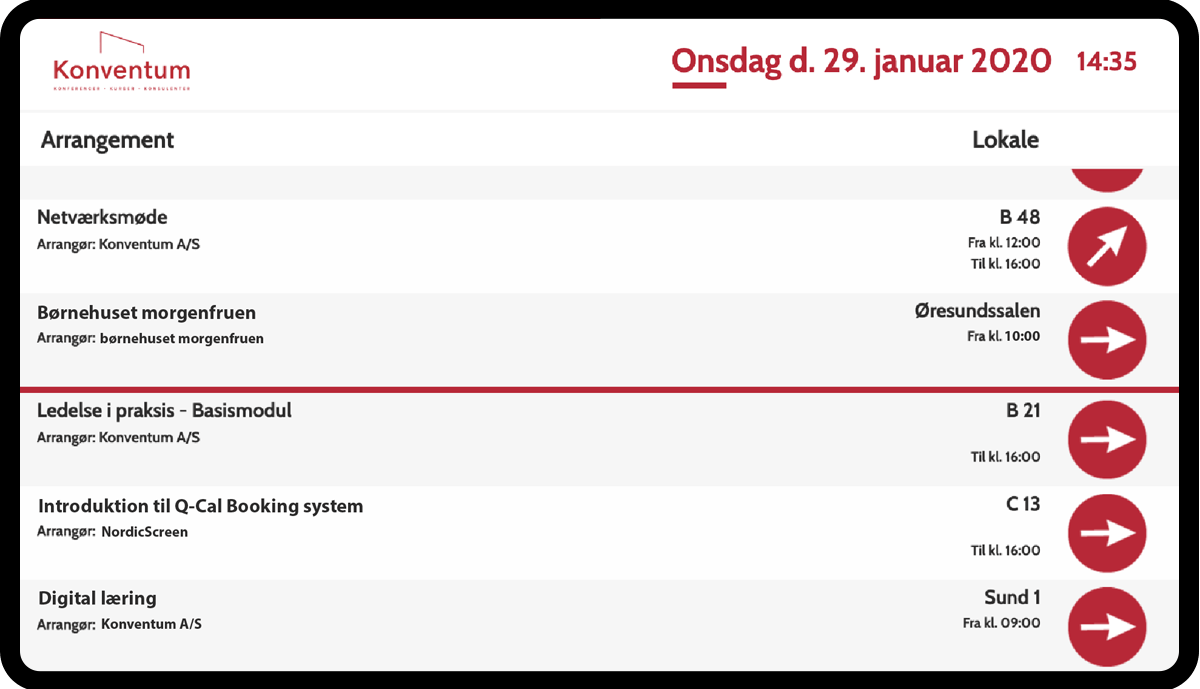 Q-Play creates an overall event layout
Konventum's automatic integration with Picasso Tech hotel provides the opportunity to give guests a layout of all the activities in the conference center. The screens are placed at strategic nodes so that guests can see exactly in which room their event is going to be.
In addition, Konventum wanted the opportunity to guide their guests to the right venue, the result was a specially developed direction indicator for each event which shows the direction to the location by using arrows.
The requirements we had for a new solution with digital signs were:
Data had to be automatically transferred from our booking system to all meeting rooms displays and information signs.
There should be the possibility of 2-way communication (touch screen options) on the meeting room displays.
Design and layout should be intuitive and easy to understand for our guests.
The underlying template and info system should be easy to work with for our employees.
The collaborator should be focused on new development and the opportunity to set up test scenarios.
Restaurant booking – avoid queuing at the restaurant
The Konventum staff spent a long time each day filling out paper schedules, which were then hung up. This solution did not provide the necessary layout and changes required a lot of extra work.
Together we solved this challenge. as the system already knows about all the events going on. In the NordicScreen booking system, staff can assign tables to an event.
By using Q-Play the staff can display alayout of the digital table plan, which is updated as soon as changes happen. This means the table plan can be displayed in several places in the conference center. This avoids queuing at the restaurant.
Avoid mistakes in the kitchen
With the integration between Q-Cal and PiccassoTeck Hotel a system was designed that sompletely reorganized the order system in the Konventum kitchen. No more handwritten orders, when a order is given it will appear on all the screens put up in the kitchen. Now the kitchen staff has an easy and convenient way to se, which foos to prepare.
If changes whould happen the order will light up, so all will notice.
Time management creates maximum value for guests

Q-Play's time management allows you to display the necessary information at the right times. This means that the event summary will appear in the morning when all guests arrive, at noon this will change to the restaurant's table schedule. This ensures that the information displayed is always up-to-date and value-adding for the guests.
"We are really pleased that we have chosen to enter into a collaboration with NordicScreen, where we have got a partner who has been interested in creating and developing the right solution for us.
We quickly and easily implemented digital signs at our 57 meeting rooms with full integration into our booking system.
The good start of the collaboration between Konventum A/S and NordicScreen has also meant that we quickly embarked on a further development of our digital signage platform and got a completely new solution for digital table planning in our restaurant.
With the new digital solutions from NordicScreen, guests at the Konventum course and conference center have a better overview of activity throughout the center. "