With our Meeting Room Displays, you can easily get a Meeting Room Display with logo, clock and the following functions:
2-way integration with Exchange or Google G-Suite
With a 2-way integration, data from the screen can be sent back to the company's Exchange or Google G-Suite calendar, so no employees go in vain. The integration can exchange data all the way down to once a minute.
Step 1
Fill out the order form on our website
Step 3
NordicScreen codes and sets up the Meeting Room Displays
Step 4
You receive hardware that is easily connected and connected to the Meeting Room Displays.
(Our reseller can help with the setup)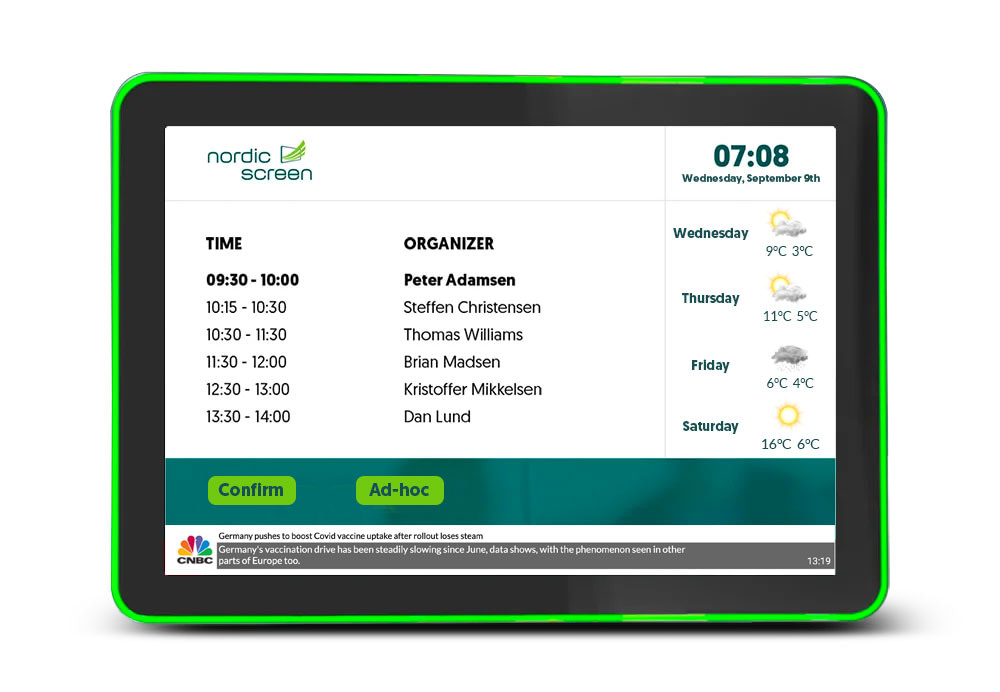 Q-Play
With Q-Play and Meeting Room Displays in combination, you get the most out of your meeting room screen. With Q-Play's editor you can insert a number of extra functions such as weather forecast, photos, videos, news, and more. Only the imagination sets limits to what you can create.
* Some features of Meeting Room Displays will not be available with this solution.
Ad-hoc booking
With ad-hoc booking, the room can easily be booked directly on the screen for short meetings, which are usually not scheduled. It can be booked in intervals. With 2-way integration, the room is also reserved in Exchange or Google G-Suite. This ensures that the room is not booked by others in the meantime.
Confirm meeting start
With confirmed start of the meeting, the meeting participants must confirm their arrival. If the meeting is not confirmed, the room will be vacated after a number of minutes of your choice. This ensures that the room can be used freely by others if the meeting participants do not come.
End meeting
With end meeting, meeting participants can end the meeting ahead of time. This frees up space for others. The room will also be freed up in Exchange or Google.
Equipment in the meeting room
With this function, available equipment is displayed in the relevant room.
If you want to purchase ad-ons, contact NordicScreen.
NordicScreen offers customized solutions where the solution can be specially designed. Contact us for more information.