Meeting Room Displays
Looking for an empty meeting room can be both annoying and time-consuming. With a Q-Cal Meeting Room Display solution, you optimize the use of your meeting facilities. You might even discover that you have more than enough meeting rooms for all your company meetings.
Request an Expert Callback
What is a Q-Cal Meeting Room Display?
A Q-Cal Meeting Room Display is a 10-in touchscreen placed outside each of your meeting rooms. The screens make it easy for you and your colleagues to see the availability of the room both in your calendar and right outside the room itself.
The Q-Cal software connects the screen to your company calendar. This way the screen will be automatically updated based on changes made to the calendar. Likewise, you will be able to see whether or not a meeting room is available in your calendar based on the two-way communication between the meeting room display and your calendar. A system like this will help you get more efficient use of your meeting facilities.
Besides, being a piece of software on a touchscreen, Q-Cal is also a calendar system in itself. You can use this system to book your meeting rooms directly from Q-Cal. You and all your colleagues can access the Q-Cal calendar from your computer anywhere in the world.
Dansk Industri already has a Q-Cal Meeting Room Display solution. Read why here: Q-Cal Meeting Room Displays Makes Dansk Industri Employees Happy
Integrate You Existing Calendar
You probably already have a company calendar system that you use for booking meetings and meeting rooms. Let's be honest … No one really wants to teach a whole company to use a new booking system.
That is why, we have made it possible for you, to integrate Q-Cal with your existing calendar system. With an integration in place, you can connect your Q-Cal Meeting Room Displays to the calendar you use today, no matter if you use Office365 or GSuite. You will use your calendar as usual, while still getting all the benefits from a Q-Cal Meeting Room Display solution.
Confirm Meeting On Your Meeting Room Display
One of the features, that makes Q-Cal Meeting Rooms Displays smart is the Confirm Meeting button. When your meeting starts, you just press the button and now everyone can see, that your meeting has started. But … the second this feature becomes really smart, is when your meeting is canceled and you forgot to cancel your meeting room booking.
If the Confirm Meeting button is not pressed e.g. 5 minutes after the meeting should have started the meeting room will automatically become available. Now everyone can see, both outside the room and in the calendar, that no one is using the room and it is available for booking.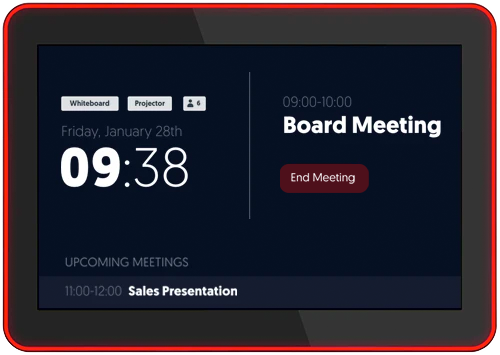 End Meeting On Your Meeting Room Display
Sometimes it happens, that your meeting ends early. With the End Meeting button, you can let everyone know, that you are not using the room anymore. When pressing this button Q-Cal will automatically update your calendar, so everyone can see, that the room is available for booking
If you don't press the button the room automatically becomes available at the preset end time of your meeting.
Ad-hoc Booking of Your Meeting Rooms
With the Ad-hoc booking feature, you can easily book an e.g. 15-minute meeting directly on the screen outside the room. You decided how long an ad-hoc meeting can take and Q-Cal will make sure that your calendar is automatically updated, so everyone knows that the room is taken.
Design Your Meeting Room Display
You probably have your very own look and brand in your company. You might even have a design manual that you need to follow. Of course, your meeting room displays should match your general look, with both brand colors, fonts, and maybe even a company logo.
Using DesignWizard you can create your very own look for your Q-Cal Meeting Room Display. Here you can use and adapt the existing template, so they match your preferred colors, fonts, and logo. if you want a specially designed look we have some very skilled designers that can help with that.
Do Like Konventum
Konventum is a modern conference center there have inspired people since 1969. Konventum has more than 50 meeting rooms and in 2019 they started a collaboration with NordicScreen and got a Q-Cal Meeting Room Display solution.
Q-Cal Meeting Room Displays provides both personnel and guests with the necessary layout of Konventum's meeting facilities. Konventum was built in 1969 and is internationally known for its unique architecture. IT was therefore very important for Konvetum that the meeting room displays matched their surroundings while providing the necessary information.
"We are very glad to be working with NordicScreen. It was quick and easy to get the meeting room display solution with full integration to our booking system up and running.
The great start meant that we quickly started expanding our digital signage solution.
With the new digital solutions from NordicScreen the guests at Konventum gets a complete layout of our activities."
Michael Wax Due
IT-Manager, Konventum A/S
The Correct Hardware
Having the correct hardware is essential for an optimal meeting room display solution. At NordicScreen you can get a complete solution with software, screens, and design. All you have to do is mount the screen on your wall.
Touch and LED
If you buy your meeting room display screen from us, you get a screen with a built-in LED edge that lights up in either red or green depending on whether or not the room is available. This way you can easily tell if the room is occupied even from a distance. Furthermore, the screen is touch. That means it is easy to press the screen and use the pre-mentioned features and buttons.
Power Over Ethernet
Having a bundle of cables hanging down your wall is no fun. that is why a NordicScreen Q-Ca Meeting Room Display solution can use PoE.
That means, if you get the right internet cable, this cable can provide your meeting room display with both internet and power. Now you only need one cable.
SignageView
With SignageView you can collect all the data from your calendar and display it on your digital signage. If you have a lot of different meeting facilities and host a lot of different events it has its advantages with an overview of all the activities. If you hang a screen in the lobby or in the office every guest and employee knows exactly in which room their event is taking place.
Much More Than Meeting Room Displays
Some of the customers using Q-Cal Meeting Room Displays are sports halls with a lot of daily activities and changing facilities.
These customers experienced a lot of troubles keeping track of their many activities in a way that was intuitive and easy for their guests to follow. Not knowing where your soccer team is going to change before the big game can be a problem.
These customers ended up combining our Q-Cal Meeting Room Display solution with our Q-Play Digital Signage solution, which solved their communications and coordination problems.
Q-Cal Changing Room Displays
Instead of using the meeting room displays for meeting rooms, the sports halls put them up outside each of their changing rooms. They removed all of the before mentioned buttons, so the screens only show whether it is the judges, home team, or guest team changing in that specific room.
This way there is no confinement about who goes where, and with the Q-Cal system integrated with e.g. KlubOffice or Halbooking, the changing rooms are assigned and automatically updated, when the game is booked in the calendar.
Q-Play Digital Signage
Besides the small changing room displays many of our sports hall customers also have the Q-Play Digital Signage solution with the day's activities running in e.g. the lobby. SignageView makes sure that every guest knows exactly on which field their match takes place, what time it takes place, and which changing room to use when they enter the front door to the sports hall. All this information is automatically filled out based on the integration and information provided by the sports halls' KlubOffice or Halbooking calendar.
With DesignWizard the sports hall adapts the design of both their changing room displays and SignageViews directly in Q-Cal.
Prices
The price of a Q-Cal Meeting Room Display solution depends on the size of the solution and contains two things. The price for hardware and the price for the software. Do you e.g. have 30 meeting rooms, then you will have a one-time investment in 30 meeting room displays. At the same time, you need a subscription for your screens.
If you at the same time want to connect to your Q-Play Digital Signage Solution or if you want help designing your displays this will also affect the price of your solution.
On our price page, you can read all about the prices for both hardware, software, and design.